CWSend for Pocket PC 2002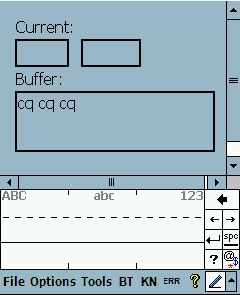 Want to send CW practice with your PocketPC? All you need is a PocketPC 2002 with an Arm processor and the CWSend program. Try the demo for free. If you like it, buy the full version to unlock several exciting features.
CWSend allows you to send Morse code by typing on the keyboard or using most other input methods. You can adjust the speed and pitch. You can also define macros so you don't have to type so much. Great for ham classes, pilots, or anyone interested in Morse code. The free demo version does not expire, and the full version adds exciting features like a practice mode, file playback, and other enhancements.
This program requires certain audio capabilities. Please verify the software works for you by downloading the demo before purchasing the full version.
Note: This help file has a few minor typos corrected from the distribution version. If you'd like the correct version, simply use the save as function of your browser, and replace the cwsend.htm file in your PPC's \Windows directory.
Download the demo version here.
If you like it, you can acquire the full version via e-mail for only $9.99. Register at: